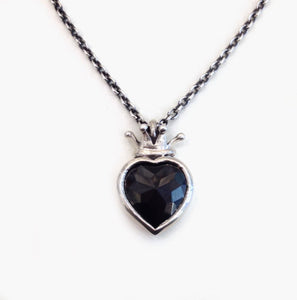 William Griffiths Sterling Silver Heart Design Necklace
This incredible statement necklace is solid sterling silver and is rather large. It features a central heart shaped cubic zirconia.

Materials: Stirling Silver 
Chain Dimensions: 50cm total length
Pendant Dimensions: 2cm width x 3cm height
Era: New
Signed William Griffiths
William Llewellyn Griffiths of the renowned jeweller Metal couture talks about his inspirations of baroque architecture and sophisticated goth. William Llewellyn Griffiths creates pieces that live in the depths of his vivid imagination, the intricate pieces have an allure of danger, romance and unholy reverence. Harlequin Market sells an eclectic range of William Griffiths jewellery which is influenced by Griffiths' own youthful rebellion and his love for the whimsical, the mystical and the undying token of love and promise.