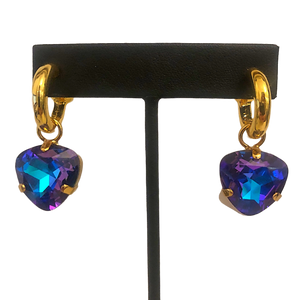 HQM Austrian Crystal Interchangeable Earrings - Heliotrope (Pierced)
Colours:  Purple / Blue 

Materials: Austrian Crystal 
Dimensions: Length: 4cm, Width: 2cm
Era: New
Style: Pierced
Made from Austrian crystals and the highest quality mixed metals, designed by us at Harlequin Market and hand-made in our Sydney, Australia workshop. 
Austrian crystals are known for their clarity, brilliance, and sparkle. 

Interchangeable earrings are a type of earring that allows the wearer to switch out the decorative part of the earring, such as the charm while keeping the same hoop. This allows for a range of looks to be achieved with just one set of earrings. 

Interchangeable earrings offer versatility and convenience, as they allow you to switch up your look without having to change your entire earring. They can be a practical and cost-effective choice for people who enjoy accessorizing and experimenting with different styles.