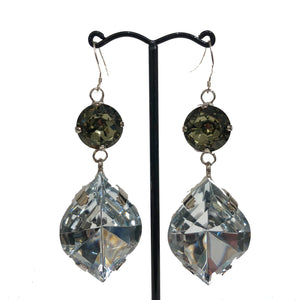 Harlequin Market Austrian Crystal Double Drop Earrings - Smokey Quartz & Clear (Pierced)
Material: Mixed Metals, Austrian Crystals 
Style: Pierced 
Era: New
Dimensions: Width - 3cm  (1.2") x Length - 7.5cm (3")
Made from Austrian crystals and the highest quality mixed metals, designed by us at Harlequin Market and hand-made in our Sydney, Australia workshop. 
Austrian crystals are known for their clarity, brilliance, and sparkle. 

These statement earrings are a mix of smokey quartz crystal and clear crystal, creating a bold eye-catching look.