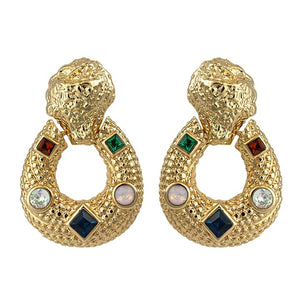 Gold & Multi Colour Stone Door Knocker Earrings (Pierced)
Materials: Gold plated
Dimensions: Width x 4cm (1.5"), Length x 5.5cm (2.2")
Style: Pierced
Era: New
Condition: Excellent

These gold statement earrings are a beautiful and versatile addition to any jewellery collection. They can be worn with a variety of outfits and can add a pop of colour and elegance to any look. 
These earrings will definitely be the statement piece of any outfit, you can pair them with simple, neutral-coloured outfits to allow the earrings to stand out or wear them with bold, colourful outfits to create a more vibrant look.
The doorknocker design is also a unique eye-catching design.