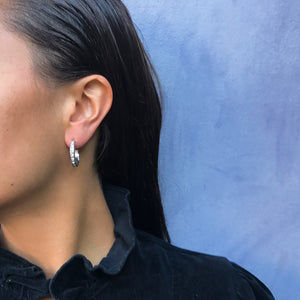 Ciner NY  Clear Crystal Small Hoop Earrings (Pierced)
Absolutely classy & effortless pair of tassel earrings with a little bit of sparkle & shine. Truly perfect for evening wear or any tassel lover!!!
Materials: Austrian Crystal Rhinestone
Dimensions: Width: 0.3 cm, Length: 5 cm
Condition: New

Style: Earrings (Pierced)
Signed: CINER NY
Founded in New York City in 1892, Ciner has the distinction of being the only company that converted from producing fine jewellery to costume exclusively. Today, Ciner is unique because it is the only firm left from that legendary age that still does all of its work by hand at one site in the heart of New York City. Numerous celebrities love and collect Ciner jewellery, including Elizabeth Taylor and Queen Sofia, to name a few. To this day, each piece of jewellery is handcrafted by a team of artisans in their New York City based studio.