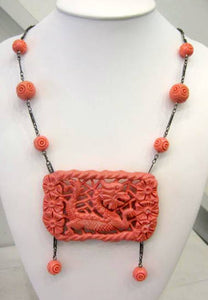 Art Deco Carved Coral Galalith Necklace Detailed & Stunning c.1930's
This statement necklace has a deeply carved rectangle pendant featuring a carved dragon, flowers, and round beads of graduated-sized coral-melon-coloured Galalith. This vintage necklace showcases various textures, depths and designs, making it a highly unique and collectible piece. 

Galalith is a synthetic plastic material manufactured by the interaction of casein and formaldehyde. A fabulous addition to your early plastics collection!
Colours: Melon
Materials: Galalith, Mixed metal chain
Age: c. 1930's 
Style: Necklace
Chain Dimensions:
Pendant dimensions:
length - 10cm
width - 5.5cm
Condition: This necklace has a slight surface craze.