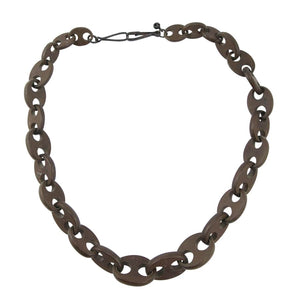 Antique Victorian U.K c.1900s Bog Oak Necklace
This Antique Victorian U.K c1900s Bog Oak oval shaped and carved bog oak necklace is in perfect condition, a very light piece that is perfect as a statement or layered with a chained pendant drop chain necklace. 
Materials: Bog Oak     

Dimensions: Carved oval bog oak varying sizes Length 3cm- 1.5cm, Width 2cm - 1cm, Necklace Length: 25cm 
Era: c.1900s - U.K/Victorian 
Mark: Unsigned
Condition: Perfect Condition 
Please note that vintage items are not new and therefore might have minor imperfections
This antique necklace is made from bog oak, which is a type of wood that has been preserved in peat bogs for thousands of years. It is often used in jewellery making as it is both beautiful and unique.
It has a rustic and earthy look, and the colour of the bog oak can be paired with a variety of outfit styles. 

Bog oak has been used for jewellery making since ancient times but still continues to be popular today.