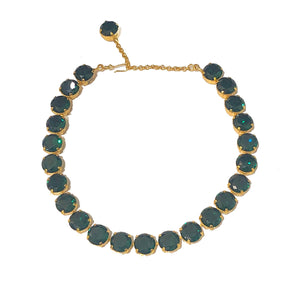 Harlequin Market X-Large Austrian Crystal Accent Necklace - Emerald Green
Stunning emerald green-coloured Austrian crystal accent necklace. Handmade in our Sydney workshop.
Handcrafted using the finest quality crystals & metals.
Think Anna Wintour when you style this necklace, we encourage you to layer up 2 or even three of these stunning necklaces together.
The perfect statement necklace to add a little sparkle to any outfit.
Materials: Mixed Metal, Austrian crystals, Gold Plating 
Style: X-Large Crystal Accent
Colour: Emerald Green 
Era: New
Dimensions: Length - 35cm + Extension Chain - 8cm
Stones: 19mm
Please contact us for further information