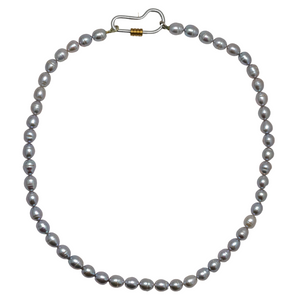 Freshwater Grey Cone Pearl Necklace with Hand-Made Lock Charm Attachment
Pearls and locks may be purchased separately!

 Dimensions: Length: 31cm drop (12")

Material: Freshwater Pearl 
Era: New


Freshwater pearls can come in a variety of sizes, colours, and shapes, and can be used to create a range of necklace styles.
A freshwater pearl necklace can create both a classic, elegant look or a more modern, edgy style, depending on the design and pairing. 

A well-crafted freshwater pearl necklace is a timeless and valuable addition to any jewellery collection.