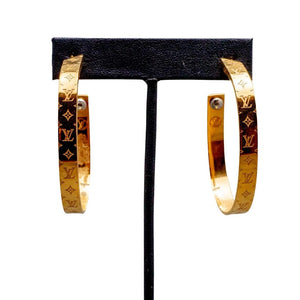 Vintage "LV" Louis Vuitton Hoop Earrings- (Pierced)
Materials: Gold Plated

Style: Pierced
Era: Vintage 
Dimensions: Width 0.5cm  (0.2") x Length 5cm (2")


These gold-plated hoop earrings are a timeless, staple piece that is needed in any wardrobe! Perfect to add an elegant touch to any outfit. These vintage earrings feature the brand's iconic design elements, such as the LV logo. 

Louis Vuitton vintage jewellery is highly sought after by collectors and fashion enthusiasts. 
Vintage Louis Vuitton pieces are one-of-a-kind, making them even more valuable.