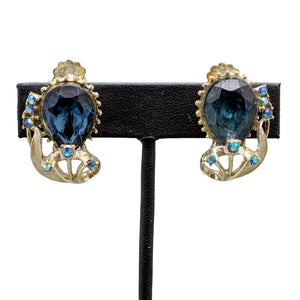 Vintage Blue Crystal Tear Drop Earrings- (Clip On)
Style: Clip On 
Materials: Sterling Silver, Crystal 
Era: Vintage 

Condition: Good
Dimensions: Width 2cm  (0.8") x Length 2.5cm (1")

These blue crystal vintage earrings are a beautiful and timeless accessory that can add a touch of elegance to any outfit. 
They are a beautiful and unique addition to any jewellery collection and can be worn for special occasions or to add a touch of glamour to everyday outfits.
Vintage earrings like these are highly unique and collectible.